David H. Levy Arizona Dark Sky Star Party II & The Oracle Dark Sky Cultural Festival
Save

$ 0.00
Save

$ -149.00
Original price
$ 149.00
-
Original price
$ 149.00


We are excited to announce the second Arizona Dark Sky Star Party (ADSSP), and the 1st Oracle Dark Sky Cultural Festival (ODSCF) is getting underway September 21-25, 2022. (Click here to view the schedule.) We are bringing an amazing group of musicians, artists, and speakers to the first IDA designated Dark Sky Park at Oracle State Park and to the community of Oracle.
Tickets secure your observing site (which allows camping) to set up your equipment for the ADSSP, and there are plenty of free to the public activities with the Oracle Dark Sky Cultural Festival
ADSSP II + ODSCF will get underway September 21 and run through September 25th, 2022, featuring special lectures from the legendary Comet Discoverer David H. Levy, who will be joined with renowned speakers. 
Valuable door prizes are being supplied by Explore Scientific.
Those who arrive at ADSSP at Oracle State Park with a ticket will receive gifts from the Explore Alliance. And these gifts you can use right away, including a Explore Scientific Red LED Flashlight to protect your night vision, a Wil Tirion Double-Sided Plansiphere to check rise and set times of the stars, a special membership in the Explore Alliance, and a gift card worth $25 from Explore Scientific. 
Announcing the Oracle Dark Sky Cultural Festival
The community of Oracle has a strong interest and passion for preserving their dark sky heritage. As they work toward an official International Dark Sky  Community designation, the local Circle K convenience store and gas station's changed to dark sky friendly lighting fixtures, and the local Ford Dealership's coordinated efforts made the Oracle State Park Dark Sky status possible.
Map of Participating Venues of the Oracle Dark Sky Cultural Festival
Now the business community of Oracle is preparing to celebrate with the Oracle Dark Sky Cultural Festival (ODSCF) with local artists, musicians, and culinary delights. These open to the public events combined with public stargazing, and an intriguing *Bat Experience at Oracle State Park  will make for a fun and memorable week of supporting the arts, nature, and dark skies. Visit this page and the ODSCF Facebook page for schedule updates. Entry to most of the venues of ODSCF are free of charge. 
*A modest Oracle State Park gate fee is required.
Venues Celebrating the Oracle Dark Sky Cultural Festival
In addition to hosting the Arizona Dark Sky Star Party, for the price of gate entrance fee (or annual state park pass) Oracle State Park will have a Bat Experience on Saturday evening (Sept 24), and public star party that same night.
Note that ADSSP Registered attendees will not have to pay a gate fee. 
The Ore House Hilltop Tavern is a family friendly bar and restaurant is a landmark overlooking the community of Oracle and Galiuro Mountain. They will celebrate Friday evening with stargazing, live music, and the food and drink that they are famous for. 
Recognized as the best Italian restaurant in Oracle, Nonna Maria's is known for their attentive staff, great pizza, and incredible view. So if Italian is your thing, head to Nonna Maria's to celebrate Oracle's Dark Skies on Friday evening. 
The Oracle Patio Cafe & Market will celebrate Oracle's dark skies on Friday evening with food, drink, music, and stargazing. They are keeping it dark and fun for the whole family. Visit their facebook page for the latest information.  
Oracle Community Center is the gathering hub for Oracle and the tri-community. OCC promotes and sponsors programs that improve, foster and enhance the well being of the community, which fits perfectly with the Oracle Dark Sky Cultural Festival. The ADSSP and the ODSCF opening remarks will occur Wednesday Sept 21st, and the closing session on Sunday Sept 25th.  Check back for exact times. 
ADSSP Speaker
David H. Levy
David H. Levy established the Arizona Dark Sky Star Party in 2018, and is best known for his comet discoveries and for his many books and articles on astronomers and astronomy. Levy developed an interest in astronomy at an early age, however he pursued and received bachelor's and master's degrees in English literature. 

Presentation Schedule for David Levy > See the Full Schedule
David Levy will lecture on September 21st at the Oracle Community Center to give opening remarks starting at approximately 10:10 a.m.
John Barentine
John Barentine has been involved in astronomy since childhood, and has worked as a professional astronomer at some of the top observatories in the world. John has contributed to science in fields ranging from solar physics to galaxy evolution while helping develop hardware for ground-based and aircraft-borne astronomy. Throughout his career, he has been involved in protecting dark skies, and education and outreach efforts to help increase the public understanding of science.
Adam Block
Fascinated by the stars since childhood and legendary for his astrophotography, Adam Block has made major contributions towards educational outreach programs through his work at Kitt Peak Observatory and at the UA Science Mt. Lemmon Sky Center where Adam developed the programs that their public outreach facilities are famous for.  
David Eicher
David Eicher is one of the most widely recognized astronomy enthusiasts in the world. With Astronomy magazine for nearly fourty years, Eicher began as an assistant editor and working through associate, senior, and managing positions. He has been the magazine's Editor-in-Chief since 2002.
Fred Espenak    
Fred Espenak is a retired astrophysicist (Scientist Emeritus) from NASA's Goddard Space Flight Center (Greenbelt, Maryland). Espenak's interest in eclipses was first sparked when he witnessed the total solar eclipse of March 1970, which led him to become NASA's expert on solar and lunar eclipse predictions. Known around the world as "Mr. Eclipse", Fred has written over a dozen NASA eclipse bulletins, each focusing on a major eclipse. 
Brandon Hamil
Brandon Hamil of the Ft. Worth Astronomical Society is known as the "Traveling Astronomer", who learned to combine his passion for astronomy with his business travel career. Brandon has given presentations at national conferences such as ALCON, regional events, star parties and has appeared on the Dr. "D." Daniel Mounsey national astronomy podcast. His talk will center around unique astronomy experiences that anyone can participate in if they just venture out onto the road. 
Vince Micallef
Vince Micallef is the manager of Oracle State Park. He has over thirty years experience in the field of parks and recreation, and is on the organizing team of ADSSP.
Vince grew up in Lakeport, Michigan. He attended Central Michigan University earning a Master's Degree in Parks & Recreation. He went to work for the Department of National Resources for state parks in Michigan and later worked for Walt Disney World in Florida.
Connie Walker
Dr. Constance (Connie) E. Walker is an astronomer known around the world for her advocacy of dark skies education. Inspired from an early age by astronauts landing on the Moon and the original Star Trek series, her curiosity for anything astronomy propelled her to be the first in her family to go to college and earn a Ph.D.

Michael Weasner
Mike Weasner has been an astronomer since he was introduced to the night sky at the age of six by an older brother.  He received his first telescope, a 3" Newtonian Reflector in 1961 (which he still uses on occasion), and earned his B.S. in Astrophysics from Indiana University in 1970. Mike is world famous for his "Mighty ETX" website and books on using this portable series of telescopes, and is one of the primary coordinators of the ADSSP II event in Oracle.  Buy the signed edition of Mike's autobiography: Finding My Way to the Stars - Autobiography by Michael Weasner
Scott W. Roberts
Scott Roberts is a designer and marketer of amateur astronomy equipment. He is also a supporter of educational outreach in astronomy and space exploration, and popularizer of amateur astronomy. Scott is the Founder and President of Explore Scientific, and with David Levy, established the ADSSP event. 
Artists
Theresa Poalucci
Making a living in the newspaper business, Theresa Poalucci has been a life-long painter. Now that I am retired I devote myself full time to creating art and teaching art. I have always been a patron of the arts, even when I was working. I would rather have a real painting then a print. See a live performance
on stage, then watch television. Hear a live band play then listen to the radio. Since you are here on this website, you must be like minded, since you are shopping for handcrafted items! Thank you for supporting local artists, everywhere!
Laura Stiltner
A ceramic artist of 25 years. Laura Stiltner was inspired by ceramic classes she took with her husband  at Northern Pioneer College in Show Low, Arizona. After filling my her home with her work, and giving ceramic wall art as gifts, she decided to start selling her work.  Since then, she is a regular at art shows, Tohonol  Chul, Desert Museum and Oracle Open Studio Tour to name a few.
Laura describes her work: "My ceramic wall art is "One of a Kind" always colorful with a hint of whimsy. I include parts of the Arizona desert with Cholla, Saguaro and Prickly Pear cacti skeleton, beads and charms in every piece. My hope is that when you look at a piece of my art it makes you smile."
Catherine Nash
A long time resident of Tucson, Arizona, Catherine Nash is an artist who freely mixes media in her work to express her ideas.  Specializing in Japanese and Western hand papermaking, encaustic painting and mixed media drawing. She has published 4 educational DVDs on the art of papermaking and has just self published a book that surveys international artists entitled "Authentic Visual Voices" that includes her interviews with 28 international artists about their creative ideas.   Her work has been included by invitation into numerous national and international exhibitions, most recently in Brazil, Chile, Tasmania, England, and France.  Her love of travel and different cultures has inspired her to live, exhibit, research and teach on four continents. Nash will donate one of her artworks during the festival. More details to follow...
About Oracle State Park
While any star gazing event can be clouded out at any time, the average nighttime cloud cover fraction, measured from 2000 to 2020 for the month of September shows good prospects for clear skies in 2022. This visualization map (red is 100% cloudy and blue is 0%) consists of just over a million grid squares averaged across 19 to 21 years of data collection. The dataset comes from EUMETSAT's Satellite Application Facility on Climate Modelling (CM-SAF).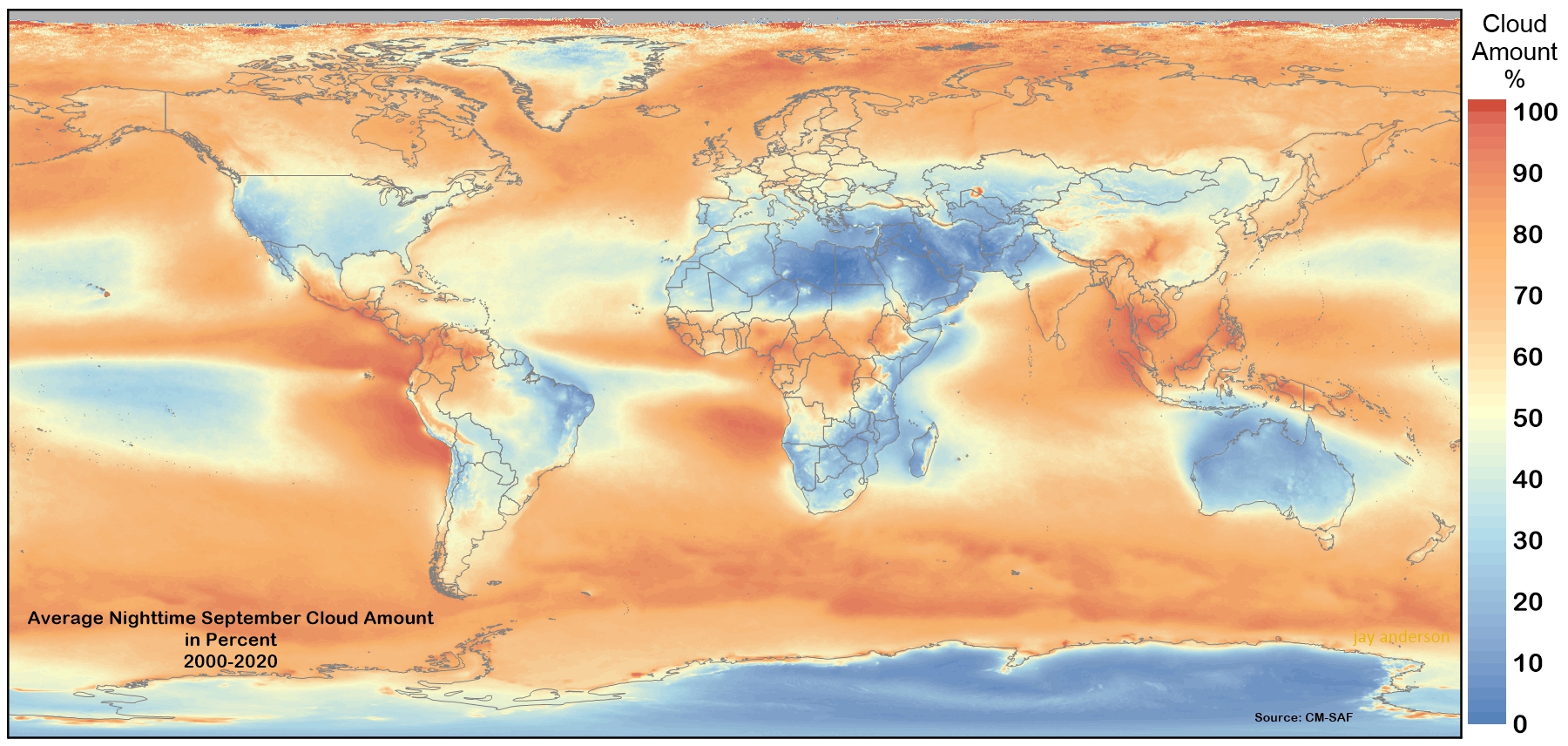 Another great resource is the Clear Sky Chart for Oracle State Park from Attilla Danko.
NOAA Historical Data Temperature and Precipitation September 2021 
| | | | |
| --- | --- | --- | --- |
|  Date | Temp High F | Temp Low F | Precip Inches |
| 9/21/2021 | 98 | 65 | 0.00 |
| 9/22/2021 | 96 | 67 | 0.00 |
| 9/23/2021 | 85 | 68 | 0.05 |
| 9/24/2021 | 90 | 64 | 0.00 |
| 9/25/2021 | 92 | 68 | 0.03 |
Moon Data during ADSSP at Oracle State Park
| | | | |
| --- | --- | --- | --- |
|  Date | Rise (Local Time) | Set (Local Time) | Phase |
| 9/21/2022 | 1:58 AM | 4:28 PM | 14% |
| 9/22/2022 | 2:56 AM | 5:02 PM | 8% |
| 9/23/2022 | 3:56 AM | 5:33 PM | 3% |
| 9/24/2022 | 4:55 AM | 6:01 PM | 1% |
| 9/25/2022 | 5:54 AM | 6:29 PM | 0% (New) |
Accessibility
Much of Oracle State Park is accessible by wheelchair or for those with mobility issues  with the exception of the historical buildings of which the park is unable to alter. Parking and many pathways are on hard level surfaces, with some surfaces that include gravel. A public toilet is near the historic Kannally Ranch House has guard rails and is large enough for wheelchair access.  
Telescope Field/Group Camp Site
You will have full access to the group site where we will be setting up our telescopes. There is 24-hour access to bathrooms on the observing field.
Telescope Power
Oracle State Park has limited electrical power at the astrophotography group site for your telescope gear and computers on a first-come, first served basis. Generators can be used at your camp site, but consider that you will be working off-grid. If you need power, bring your rechargeable power equipment. Explore Scientific offers the USB Power Bank with Red LED Flashlight. If you need more power that operates silently, consider fully integrated solar generator solutions from companies like Goal Zero. 
Where to Stay
Note that the registration fees do not include hotel accommodations or meals. Here are options for area hotels and RV camping:
Getting There
Oracle State Park is a about an hour and twenty minute drive from Tucson International Airport.
If you are driving to Oracle from out of state, we recommend that you read this article about Preparing for a Star Party. It covers the safety considerations for any road trip and how to prepare your telescope gear.
Site Coordinates, Time Zone, and Weather
More